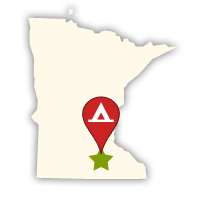 Family memories to be made just 45 miles south of the twin cities!
Campers have been enjoying the easy access to Camp Faribo over 50 years. We offer a family-oriented atmosphere with free activities most weekends. Our 55' swimming pool is the best place to be on a hot summer day. Or take a bike ride around the Sakata Lake State Park just 3 miles from the Campground. Camp Faribo is surrounded in farm country and just 2 minutes outside of the town Faribault. If fishing, boating, shopping or golf is your desire, the town of Faribault offers it all.
Our consistent goal is to offer a clean, updated, and safe camping environment where fun and memorable family experiences are made.
Interested in being a Camphost for our campground? Call 507-332-8453 for more information.
Absolutely loved staying here. Owners and Camp Hosts were all so sweet and nice. Pool was nicely heated. Clean campground Owners and Camp Hosts were going around golf carts helping... read more us park our camper. Asking if we need anything. Bathrooms clean. They did close them at 8:00 I used them a couple times when we were at the band or playing bingo. Which they were open until after the activities. But we really didn't need them because we had our camper. Loved the activities they planned every day. Kept us busy. Kept us on our toes. I would definitely recommend this place to anybody and everybody. We are definitely going to be going back over and over. I cannot wait till next year!!! Thank you all for making us feel welcome and great memories!!!!! Till next year!!
Jennifer Geiger


September 7, 2022
Love this campground! Everyone is so nice here! We were just there this past weekend and hope to go at least 1 or 2 more times this year. Everyone is... read more so helpful! We have a small camper and this was the first time we used it and my husband had a few questions about something and the employees were more than willing to help answer questions! Keep up the awesome work, Camp Faribo! We'll definitely be back!
Jill Holtzworth


August 24, 2021
2 night stay in September. Quiet RV park day and night. Some interstate noise but easy on/off access. Sites not too close. Good dog walking at perimeter. Lots of... read more part time residents with well maintained lots. Very clean pool. Easy drivable access to Faribault.
EarthyNP


September 10, 2021
We would like to give all the staff a great big thank you for an amazing weekend.
From the moment we arrived to the second we had to leave,... read more staff went above and beyond to make sure everyone and all their equipment were taken care of.
The sites are very well placed so nobody feels cramped.
The pool, grounds, buildings, office/ camp store were all very easily accessible from all sites.
We were sad to leave and already making future plans to return before the season is over! The only thing i will do different next time is to bring a table cloth.
Thank you again owners and staff members... outstanding!!!!
ryker2015


July 18, 2021
-Beautiful setting with lots of shade
-Wonderful people
-Pet friendly
-Family friendly
-Nice pool and rec options (pool table, ping pong, Etc.)
-We stayed overnight, and we... read more would definitely do it again!
Amanda M


July 19, 2017